Crooked House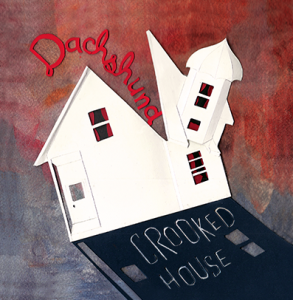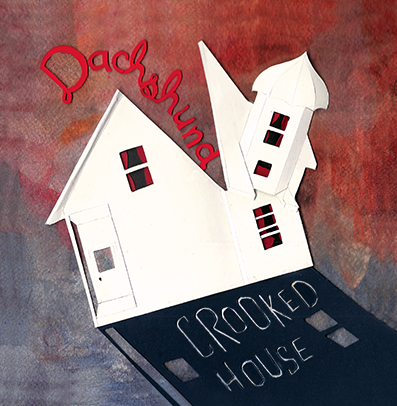 Available locally at:
– Starship Records & Tapes, Tulsa
– Dwelling Spaces, Tulsa
Stream it on Spotify, YouTube, and elsewhere!

Or buy now, from our shop! (Powered by CDBaby)
For our 2016 sophomore album, we decided to explore territory that's a bit more personal than that of our debut, 2011's "The Ballad of Shorty Long." To some, this might read as a departure — and yet, many of these songs have been with us since the early days of the band. We prefer to think of "Crooked House" as a reveal of sorts, showcasing an introspective side to the band which we weren't able to capture on our debut.
Each of the 13 tracks on "Crooked House" was refined through live-performance over the course of a couple of years, with a lineup featuring founding members Eric Hartley (guitar/vox), Ryan Dannar (guitar/vox), and Andy Jenson (bass), as well as newcomer Adam Karleskint on drums.
The time we invested in gigging with these songs resulted in some sturdy arrangements, as well as a palpable group-chemistry when we played them. We recorded "Crooked House" in a way which attempts to duplicate that live vibe, and to respect the simple power of the live arrangements — with just a bit of studio-trickery used to render the songs a hair "larger than life."
"Landlocked State" kicks off the album with an anthemic dose of midwestern melancholy. Over a guitar refrain which evokes John Ford westerns, and a rhythm which undulates and flows like the terrain of Northeastern Oklahoma, Dannar unspools a lyric about his home state, about natural beauty and the oppression of conservative tradition.
Centerpiece ballad "Gary" begins as an empathetic, reflective acoustic piece, with Dannar describing the sudden re-appearance of an old friend caught in desperate straights. The piece builds, both dramatically and dynamically, as Dannar traces two different emotional arcs — one involving his friend's breakup with his fiance, and the other involving Dannar's own difficulty in dealing with his friend's erratic behavior.
Hartley's "Vices" wraps a similar story — about a friend in need who just keeps choosing the path of self-destruction — around a concentrated blast of chugging guitars and sudden dynamic shifts. It's not only a visceral song on its own, but also plays as a catharsis following the long, steady buildup of "Gary."
The album's back half gives way to some of our darker and stranger material, showcasing a bit of impish humor (Hartley's "Ichabod" and "The Bird and the Lemming"), hard-grooving headtrickery (Dannar's "Long History"), and surreal pseudo-industrial sci-fi jam-funk (Dannar's "Factory").
It's a well-rounded album, a little less "direct" than our debut but no less rewarding, full of songs which contain a palpable live-energy. We try to make every album worthwhile. These songs have various layers of meaning to us; as you listen, we hope some of those meanings might unfold for you. We also hope you find lots of "buried hooks" strewn around the more obvious ones here.
"Crooked House" Tracklist:

| | | |
| --- | --- | --- |
| 1 | Landlocked State | 4:28 |
| 2 | The Wedding Guest | 4:46 |
| 3 | We Fall | 3:16 |
| 4 | Only In My Dreams | 3:39 |
| 5 | Gary | 5:23 |
| 6 | Vices | 2:37 |
| 7 | Stain | 3:36 |
| 8 | Flowers Bloom | 3:40 |
| 9 | Ichabod | 1:59 |
| 10 | The Bird & the Lemming | 2:40 |
| 11 | Vigilance | 4:11 |
| 12 | Long History | 3:42 |
| 13 | Factory | 9:38 |