The Long and the Short of "Shorty Long," Part 2: Illegitimate One
[Here's Part 2 in a series of posts about "The Ballad of Shorty Long."  This one's about the second track on the album.  Read the rest of the series here.]
"Illegitimate One"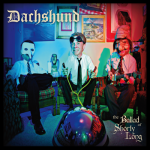 Track 2:  Illegitimate One
Listen
 to "Illegitimate One" on Spotify.
[All links open in a new window or browser tab.]
This is a heavy song!  Heavy musically, and heavy thematically.  It was built from several converging ideas.  It was meant to be a portrait of a monster, a noirish tale of the American West — and, underneath all of that, an ironic sort of political statement.  It's a difficult song to explain, but I don't want it to be misunderstood, so I'll try.
The verse-riff came first.  It sounded kind of serpentine, and to my ear it suggested imminent violence.  I try to write words based on how the music makes me feel, so my thoughts drifted in that direction.
For awhile, I'd had this notion of writing a song about a monstrous person.  I wanted to paint a lyrical portrait of somebody who had done unmistakably terrible things — and yet, I wanted to do it in a way that let them speak for themselves.  I wanted the lyric to kind of reveal them as human, despite whatever crimes they'd committed.  I wanted to invite you, the listener, to identify with this person.  The reasons why I'd wanna do that are complicated.  On one level, I think it confronts the listener in an interesting way, and so it makes for a good dramatic kind of song.  But on a deeper level, I guess I think we too readily dismiss the monsters among us as inhuman — when, in fact, they are very human indeed.
Following that train of thought for a second:  I think the monsters among us are created in large part by society.  They are a reflection of us, whether we choose to admit it or not.  We form the societies that create the problems that create these people.  So to look at a monster with an eye for understanding is a good thing, even though it can be frightening.
With this stuff in mind, I wrote a verse about a man being confronted by his illegitimate son.  But it wasn't really working very well, and I wasn't able to write more than a verse.  The problem was, I didn't know enough about the character I was writing the song about.  Having him essentially disown his son all over again made for an interesting start, but there had to be more than that.  I had in mind that he was going to divulge a list of terrible things he'd done, but I had no idea what those things should be.  I needed some sort of thematic structure.  The situation I had in mind was too vague to accomplish what I was shooting for.
A week or two later, inspired by the noirish Australian western "The Proposition," it occurred to me to set the events of the song in the mid-to-late 1800s, somewhere in the mythic American West.  It was one of those rare happy moments when the whole shape of the song suddenly seems to reveal itself all at once.
It was kind of funny, because I'd originally imagined the father-and-son confrontation taking place in some kind of dusty saloon — but I'd dismissed the image as being corny, and although it had persisted, I'd done my best to stay away from it.  What I now realized was, it was the exact setting the song needed!  I just had to look at it seriously, rather than dismissively.
So, I cast the father as a settler of the American West.  I imagined him as someone who had travelled West due to lack of money or opportunity in the East.  I pictured him as one of the first white residents of Oklahoma, someone who had staked a claim during the land-run, had found small financial success, and had helped to build a town.  I thought about all the terrible things that white people did to native Americans in those days, and how this guy might have participated in a lot of that, how he might have got caught up in the spirit of his times, bought into the whole bullshit "Manifest Destiny" credo — and how he might now, years later, have come to regret his actions, how he might feel like a terrible person, might even feel like he was used — (society makes villains, there's the theme) — but he can't change any of it.  And so, in a gruff and ass-backwards kind of way, he confesses his sins to his son.  Despite his aggressive macho posturing, it seems to me like he's ultimately saying, "Your life will be better if you don't claim me as your father."
"Learn to forgive and forget," he says.  "In the ways that you will love, you will find your heart at home."  He's basically telling his son, "Don't be like me."
And that's the song.  But there's another level to it, beyond this stuff.
As I wrote the song to incorporate the western setting, it occurred to me that I was inverting all the common romantic notions that people have of the American West.  It was sometime during 2006 when I wrote this song.  George W. Bush had just been elected for a second term.  The events of 9/11 were only 5 years passed.  And a weird mixture of unexamined patriotism and fear permeated our culture.
I have to say that it kind of got to me.  I live in an extremely conservative part of the country, and I was disturbed by a lot of the right-wing sentiments I was hearing from… well, from people close to me, people on TV, people on the radio… it just seemed like it was everywhere.  A lot of people wanted to just "nuke the whole middle-east and be done with it."  Others were convinced that any person with brown skin was a terrorist.  Others proudly waved flags and cheered as the president declared what I believed to be an unjustified war on Iraq.  There was a crazy patriotic fervor all around.
And there was this one refrain I kept hearing, this little bit of "wisdom," which held that The United States of America would be a better place if only we could go back to the values that our forefathers held dear.  People would talk about the days of the American West and how pure life must have been back then, how righteous and true, and what a shame it was that we'd gotten away from those values.  And I just thought, "Excuse me?"
I think those people must have been mistaking Hollywood's romantic visions of the Old West for the actual historical record.  I mean, this was the era when a lot of people still felt like slavery was condoned by God!  It was the era when Native Americans were run off their land, slaughtered, and otherwise demoralized because we wanted their land, and we were the ones with the guns.  I could go on, but I'll stop there.  I doubt these are the values those folks had in mind — and yet, you can't look at an earlier era and say, "Life would be so much better if we could return to that — oh, but without the slavery and genocide."  In every era, the good and the bad go hand in hand; the "good" beliefs give rise to the "bad" beliefs, and so on.  The truth is, our earlier eras were no less screwed-up than our current era.  They were just screwed-up in ways that are easier to understand now, with the benefit of hindsight.
So, because of the way that this song inverts the whole romantic mythology of the West, painting it as a dark and violent kind of place, I always felt like it was a political comment.  I think what it says is, "This is the murk of the past that you would deny.  When you talk about our golden heritage, don't forget that we have some very real blood on our hands."
====
Other notes:
My original demo of the song was quite a bit faster than the version that ended up on the album.  When I brought the song into the band, we ended up slowing it down a few clicks.  Also, the bassline I'd written was a bit more frenetic.  Andy pared it down to its essentials.  I think these were good decisions.  They lent the song a more soulful feeling, whereas my original version was perhaps a bit too manic for its own good.  I think the slower, more soulful vibe fits the lyric better.
This entry was posted by Ryan on July 7, 2012 at 2:41 am, and is filed under Etc., The Long and the Short. Follow any responses to this post through RSS 2.0.Both comments and pings are currently closed.